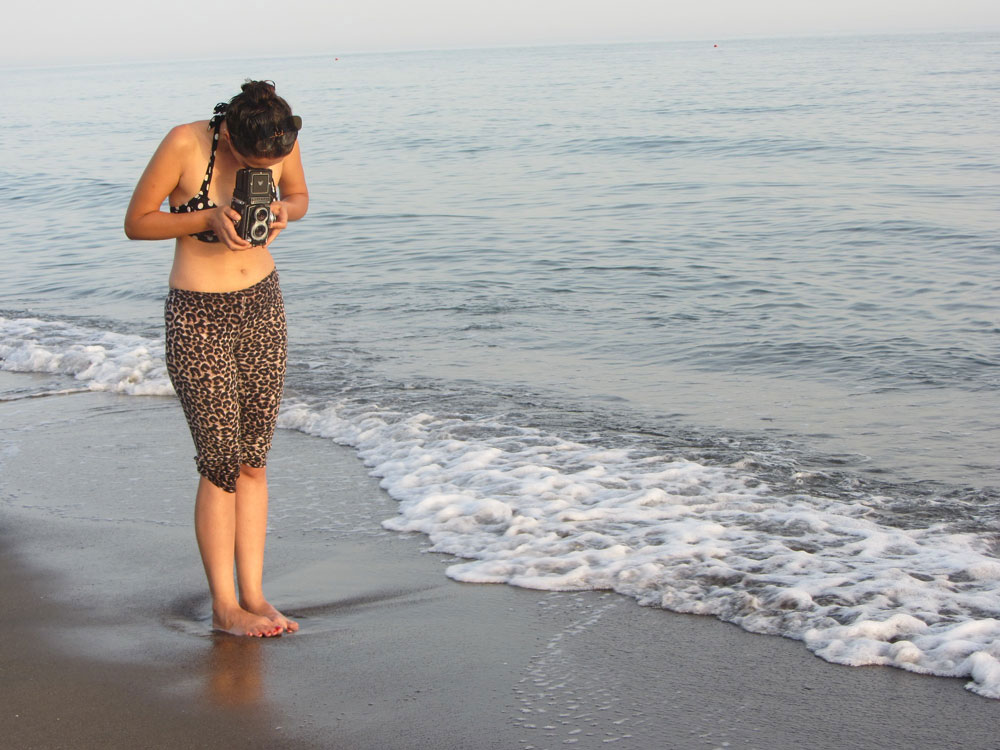 Biography
Ana Miladinovic (Anami) is a visual artist, dedicated mainly to analogue photography, alternative processes and mixed-media art. She was born in 1985 in Belgrade, Serbia.
Ana Miladinovic Anami draws inspiration from her own experiences and emotions, using her art as a means of self-expression and reflection. Her work can be introspective and contemplative, yet playful and experimental. She began her formal art education at the School of Design in Belgrade at the age of 14, continued at Cambridge Arts and Sciences College, and later earned a BA in Photography (2009) from Anglia Ruskin University in Cambridge.
Ana Miladinovic's artwork has been exhibited in solo and group shows in Serbia and internationally, including Italy, Poland, the United Kingdom, and Canada. She has received several awards and honours for her unique approach to visual art.
In addition to her visual art practice, she is an assistant and teaching fellow at the Academy of Arts in Belgrade, Serbia. Ana Miladinovic Anami has been a member of the Association of Fine Artists of Serbia (ULUS) since 2013 and currently serves on the board of the New/Extended Media section.
Artist Statement
Visual communication represents an exciting journey, into the mysterious world of personal and collective perception. The real world and its symbols get individual reflections within our conscious or subconscious "decoding" of what we see. My creation dictates a personal rhythm that I use to compose visual symbols into new meaningful units. It seems as if I constantly challenge traditional conventions. In the reality of destruction, fear, and death, I tend to find beauty and compassion.
Selected Exhibitions
Emotional Landscapes, Galerija Beogradske Tvrdjave Stambol Kapija, Belgrade, Serbia – Solo Exhibition (coming soon)
Anturijum, ULUS Autumn Exhibition, Fine Arts Association of Serbia, Art Pavillion Cvijeta Zuzoric, Belgrade, Serbia (2022)
Expanded and New Media Triennial 2022, "Unreleased Materials", Fine Arts Association of Serbia (ULUS), Art Pavilion Cvijeta Zuzoric, Belgrade, Serbia (2022)
ULUS New Year's Sales Exhibition, ULUS Gallery, Belgrade, Serbia (2021)
The State of Exception, Autumn Exhibition, Fine Arts Association of Serbia (ULUS), Cvijeta Zuzoric Art Pavillion, Belgrade, Serbia (2021)
The Duty of Woman's Mane, in collaboration with Jelena Pavlovic and Kristina Jovanovic – Artikulacije, National Museum, Pancevo, Serbia (2021)
Being Me, Ustanova Kulture Palilula, Belgrade, Serbia – Solo exhibition (2013)
Belgrade Open Art, Kulturni Centar Beograda, Belgrade, Serbia (2013)
Odlično – May Exhibition, Association of Applied Artists & Designers of Serbia (ULUPUDS), Belgrade, Serbia (2013)
New Members of Fine Arts Association of Serbia (ULUS), Cvijeta Zuzoric Art Pavillion, Belgrade, Serbia (2013)
1+1 Art History Department Exhibition, Association of Applied Artists and Designers of Serbia (ULUPUDS), Singidunum Gallery, Belgrade, Serbia (2012)
DonkeyArt Prize, Galleria De Santis, via Tortona, Milan, Italy (2011)
Cambridge School of Arts Degree Show, Ruskin's Gallery, Cambridge, United Kingdom (2009)
Beware of the Dog, Clowns Gallery Cafe, Cambridge, United Kingdom – Solo exhibition (2008)
International exhibition of Artistic Miniature Photographs, Praxis Gallery, Toronto, Canada (2006)
IX International Exhibition of Unconventional Photography – Odlot, Galeria WDK, Rzeszow, Poland (2006)
Books
Bitten, Blurb (2009)
Beware of the Dog, Blurb (2008)
Disturbing Passion, Handmade Book (2007)
Publications
WANNABE MAGAZINE | Belgrade Open Art: Kada umetnost krene ka publici
LISA | Umetnička manifestacija Belgrade Open Art – BOA
BLIC | Manifestacija Belgrade Open Art (BOA) u Knez Mihailovoj i KCB-u
24 sata | Izložba umetničkih fotografija u Ustanovi Kulture Palilula | BEING ME
BLIC | Izložba fotografija uz ispovest umetnice u Ustanovi Kulture Palilula | BEING ME
MONDO | Dan kada će mladi umetnici izaći na ulicu | BOA
HOUSE OF DESIGN NEWS | Beograd Otvara Umetnost| BOA
TOP PHOTOGRAPHY FILMS | The Beauty of Immortality | Interview
FIRST POST – Video | Point of Initiation | Fine Art Photography
ART INFO VESTI | 1+1 – Sekcije za teoriju, kritiku i istoriju primenjene umetnosti
A2ARHITEKTURA | 1+1 izložba
BLIC | Izložba "1+1″ u galeriji "Singidunum"
ARTE | 1+1 izložba
BLIC | Izložba galerija Singidunum
ART INFO PORTAL – Video | Godišnja izložba – Sekcija za istoriju teoriju i kritiku u umetnosti
POLITIKA | Inovacije u umetnosti
24 sata | Izložba "1+1″ u galeriji "Singidunum"