Artist's Blocks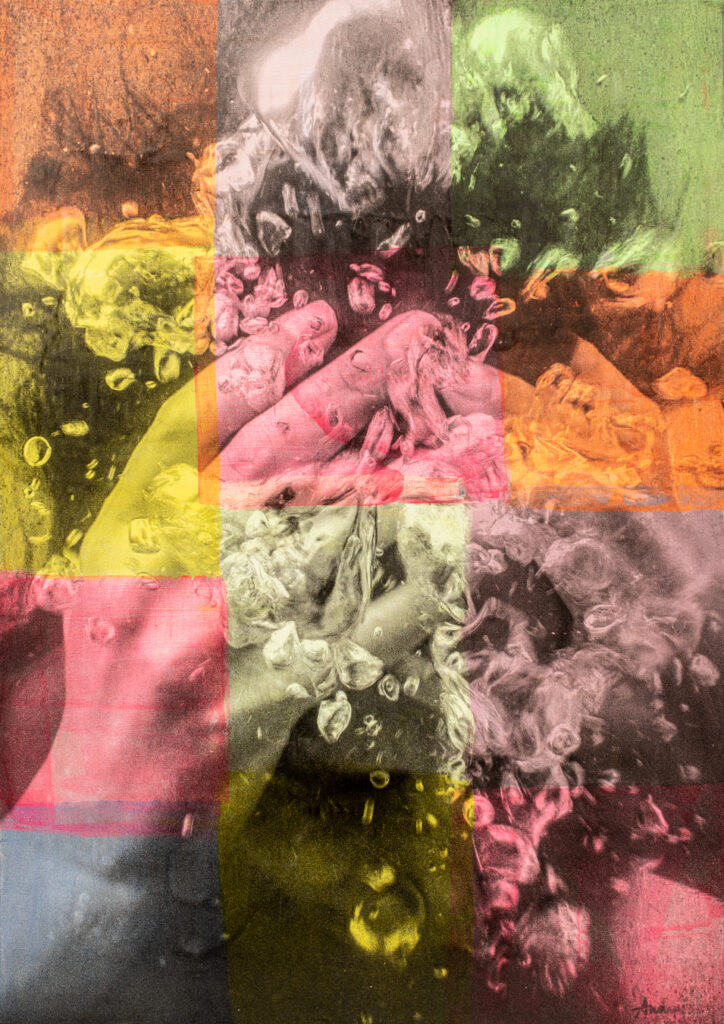 "Artist's Blocks" is a mixed-media artwork on canvas, 70x100cm. It consists of a combination of acrylic paints and gel medium photo transfer. I painted blocks of colors in lively fluorescent and pastel tones as they symbolize creative ideas "hidden" beneath the surface. They are covered by a medium gel monochromatic self-portrait transfer, depicting me as I released a frustrated scream underwater covering my face with my hands.
This work is a sort of self-reflection – the artist constantly strives for continuous inspiration and uninterrupted creativity while dealing with internal and external pressures. The close-up self-portrait in which I release the scream underwater symbolically depicts the dramatic battle with the artist's block – the biggest nightmare of any creative individual.
Being an artist today can be significantly emotionally and psychologically draining. In opposition to the ancient times, when artists were perceived as "portals" for the divine creativity of the gods, somewhat liberated from responsibility and pressures of judgement – contemporary artists nowadays are considered independently deserving of both the successes and failures in their creations and career.
Fear of "bad" criticism, self-doubt, psychological and physical exhaustion combined with the pressure of the art industry dictate and the times we live in, unfortunately, can often be entirely devastating for the artists.